Prints of posters shown or mentioned in this article can be bought from AllPosters.co.uk. Click on the images and text links for details of prices, sizes and framing.
The first half of the 20th century was the "golden era" of the railway poster in England. Poster painters such as
Claude Buckle
(1905-1973) developed almost an art form in its own right. Long before the age of TV advertising their scenes, painted in the popular artistic styles of the day, called on the British population to travel by railway.
Railway poster artists
promoted travel on the routes of the major railway companies such as the LMS (London, Midland and Scottish Railway) and the LNER (London and North Eastern Railway) opened up a new world of places to go.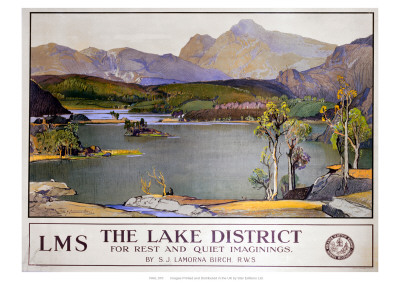 In spite of economic hardships in many areas between the wars, people wanted to get away from day to day life for an annual holiday or seaside weekend. The North of England was no exception, not only as the home of millions leaving for their annual "wakes weeks" but also providing an array of popular holiday destinations for people from around the country.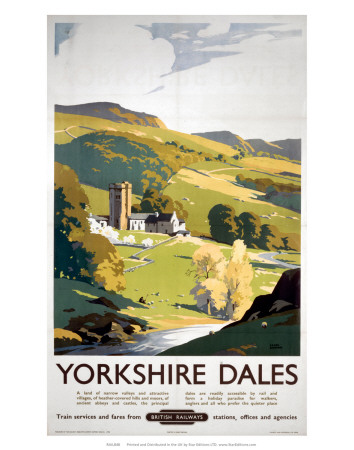 The Lake District was heavily promoted with a variety of designs as were the Yorkshire Dales, in the heart of the North, and Teesdale in the North Pennines. The North East coastal areas of Yorkshire and Northumberland (this was long before county reorganisation and the creation of "new" counties) got publicity for individual towns as well as the region as a whole. Bamburgh, Saltburn, Scarborough, South Shields and Whitby are just a few examples. This was also the case with inland towns such as Harrogate and west coast seaside towns like Lytham St. Annes, Morecambe and Southport.
Scenery was not the only theme of the railway posters. This was a time when as Britons we were still proud of our engineering and industrial achievements and had not yet fallen to the idea that money grows on trees. The old Yorkshire saying, "Where there's muck there's brass," could be used without "muck" being denigrated as pollution and "brass" being taken to imply 'private' (with a disapproving slur in the voice) greed. Life was hard for most but there was still pride in our major industries and this was reflected in the choice of industrial subjects in railway posters such as this next one of Sheffield, and finally of the coal mining industry on which, of course, the railways depended for fuel.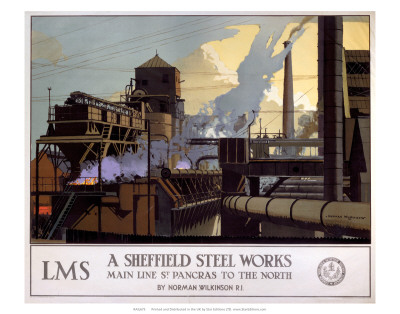 Old Railway Posters of England – Hundreds of them!
Posters, posters, posters. There are hundreds of them reflecting aspects of England. They're available as reprints in many sizes, unframed or in a variety of frames. For more see my fledgling site, "England on Posters", on which we'll be gradually building links to a variety of sources of posters picturing our wonderful country – or click here for a listing of over 800.
---